Welcome to our Alaska cruise pages! Becky and I sailed Alaska's famous Inside Passage aboard Royal Caribbean's Radiance of the Seas May 31–June 6, 2003, and are excited to share our cruise experiences with you and hope you enjoy your visit with us. We also hope you'll take a cruise to Alaska and share your experiences with us. Please feel free to us if you have any questions or comments about cruising to Alaska or if you have any problems browsing these pages. To best enjoy these pages, you need a broadband Internet connection, a modern Web browser, a screen resolution of 1024 x 768 or higher, and some time. What lie ahead are 117 photos and three mini-movies spanning twenty-four pages. Plus, there's a page of photo thumbnails that serves as an index for all the photos on these pages.
We chose to sail Alaska because we wanted a cruise experience that would be different from our previous cruises. We'd sailed to the Bahamas, Key West, and the eastern and western Caribbean. Becky's parents sailed Alaska a few years ago and thoroughly enjoyed their cruise. Several of Becky's friends highly recommended the cruise, too, so Alaska was a pretty easy choice to make.
When we began researching Alaskan cruises, we were a little surprised by the relatively high prices for passage and excursions. There are a lot of bargains for seven-day Caribbean cruises. The deals for Alaskan cruises weren't so flattering at the time we booked our cruise.
Excursion prices were a factor in deciding to sail Alaska. The price difference between the typical Caribbean shore excursion and the typical Alaskan shore excursion was huge. Whereas a typical Caribbean excursion might cost US$80–160 per couple, the typical Alaskan excursion costs $US200–600 per couple. But there are a lot more excursions in Alaska that involve airplanes, floatplanes, and helicopters. Also, Alaska's geography places a cost premium on almost everything.
But after sailing the western Caribbean two years in a row and hearing so many glowing recommendations from others, we decided to shell out a bit more loot and booked our cruise. We're very glad we did. The rest of these pages will tell you why.
There are a few ways to cruise Alaska. There are Outside and Inside Passage and one-way and roundtrip cruises. Inside Passage takes you inside the islands that lie on the outer reaches of Alaska's coast. Outside Passage takes you outside these islands. We chose Inside Passage-roundtrip. I would've preferred to sail one-way, but that involved flying back to Atlanta from Anchorage. Becky is a nervous flyer, and she'd never been in a plane for more than two hours, so we opted for a roundtrip cruise from Vancouver, British Columbia. There are Alaskan cruises that depart from Seattle, but they're more expensive.
Friends and family advised us to fly into Seattle and take a bus or rent a car to get to Vancouver. We took a bus chartered by Royal Caribbean. Plus, our favorite television show, Frasier, piqued our interest in Seattle. If Becky and I had it to do over again, we'd have flown straight into Vancouver. We were raring to get to the ship once we landed in Seattle and we just couldn't get to it fast enough.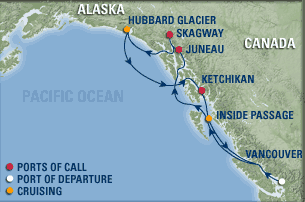 Pictured above is a map I swiped from Royal Caribbean's Web site showing our cruise itinerary. Our ports of call included Juneau, Skagway, Hubbard Glacier, and Ketchikan, but Hubbard Glacier wasn't a port where anyone could leave the ship. We sailed into the icy waters of Glacier Bay to see Hubbard Glacier, and Radiance did one-and-a-half pirouettes so that everyone could have a clear vantage of the massive glacier. There was no way to disembark the ship unless one were to jump overboard. Once our cruise ended, we stayed a day each in Vancouver, Victoria, and Seattle. We're glad we visited these last three places, but none could compete with Alaska's majestic scenery and the exemplary personal service and splendor that are present on a Royal Caribbean cruise.
I wish we'd had the time and money to stay on the ship and take the cruise all over again. Our vacation enjoyment slipped considerably once we disembarked in Vancouver. If you've enjoyed a cruise before, you know what I mean. There's just no place quite like a cruise ship. This was our fifth and best cruise and we're looking forward to sailing Alaska again in the coming years.
Introduction

Ship

Juneau

Skagway

Hubbard Glacier

Ketchikan

Vancouver & Victoria

Seattle

Thumbnails
This page was last updated March 30, 2004